Bring some sizzle to your venue..
What is the Black Rock Grill dining experience?
Tabletop dining at the next level. Allow your customers to cook their meal live at the table on a superheated volcanic stone. A wide range of produce can be cooked on the stone so you can really create an exciting and fresh menu. We have a range of professional set-up's to choose from depending on the size of your establishment.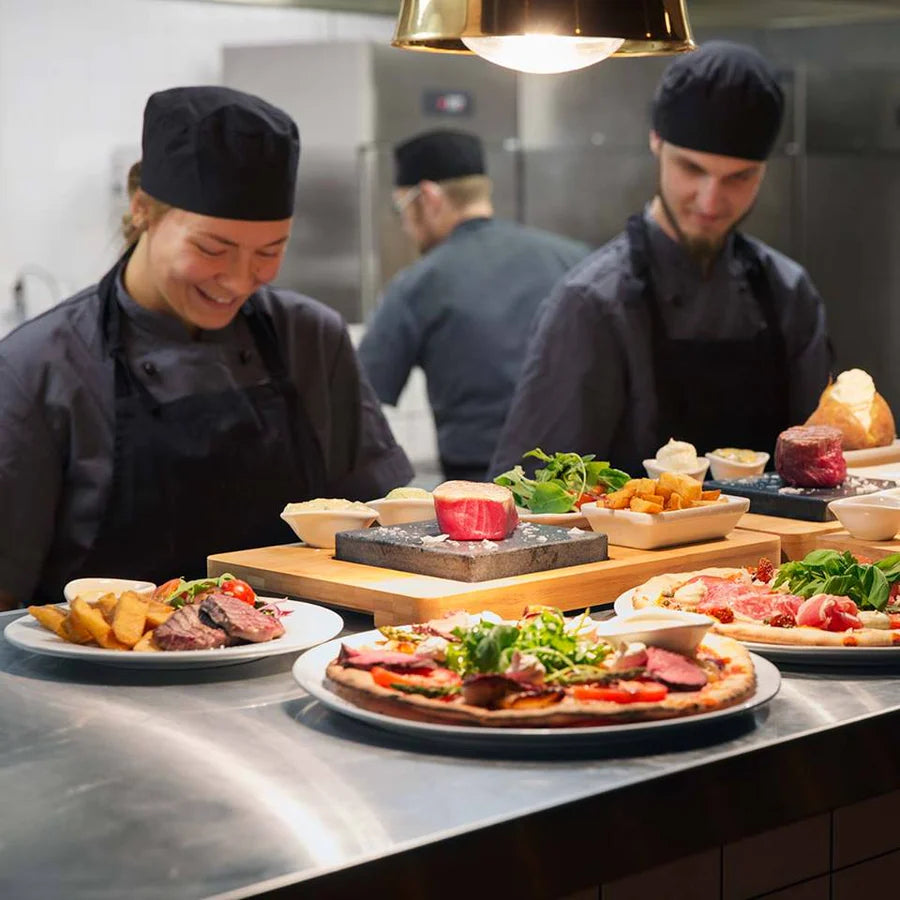 What are the benefits of Black Rock Grill?:
- Get ahead of your competitors, offer a USP that is unique and exciting
- Serve customers within 5 minutes of ordering
- Turntables quickly
- Serve meals indoors & out
- Fewer staff needed to operate
- No meals returned
- Hygienic safe sizzling hot meals
- Rebound quickly and profitably
- Increase average spend
Explore Our Set-Ups & What's Included'


INCREASED PROFITS
Achieve higher average spends, less food wastage, faster service and turnaround, less staff needed in the kitchen.
LOW CAPITAL INVESTMENTS
You don't need to build a new restaurant. This concept is so powerful it can fit into any space or even just plug in around the pool or in the garden or rooftop. Lease finance available.
POWERFUL CONCEPT
The Black Rock Grill concept fits nicely with many themes and there is no need to spend money on re-fitting the kitchen. Just use your imagination. It's unique and will add a USP to your business
LESS IS MORE
Your kitchen staff will spend less time preparing food in the kitchen so they can spend more time ensuring customers are happy. The food is prepared in a matter of minutes and can be with the customer straight away. Training materials are included when you buy an oven set-up.
Want to transform your menu?
Get
in touch
to speak to us:
★★★★★

Our winning the Best midmarket restaurant group in the Saudi Arabian Tourism Award had a lot to do with Black Rock Grill. Our customers really appreciate the uniqueness, flavours and theatre of Black Rock and that compliments what we offer at our restaurants.

Steak House Group

Saudi Arabia
★★★★★

Customer service from Black Rock Grill has been 5*. A huge amount of support from Louise. Feedback from customers has been really positive. People love the theatre and they love the idea and the novelty behind it. From a chef's point of view, we love it because tables with a Black Rock Grill are so much easier and save time as the steak cooks at the table instead of in the kitchen which is very helpful on a busy night. 

Mark, Head Chef

Legoland
★★★★★

Black Rock Grill brings theatre and fun to the restaurant. The interactive method of cooking provides a casual al fresco alternative for our guests to kick back and enjoy the ambience of eating on deck under the stars. It has proved such a big hit, our guests think it's 'amazing'. Such praise means that we are looking to roll out the Black Rock Grill concept across the entire fleet.

Rudi Scholdis, Culinary Director

Silverseas Cruise Lines, USA
★★★★★

Black Rock Grill brings a whole new dining  experience to our food offer on board. Our Passengers really appreciate the uniqueness, flavours and theatre of Black Rock Grill dining and that complements what we offers on our cruise line.

Kulli Joakit

Tallink Cruise Line, Estonia
★★★★★

When we installed a 30 rock system in 2005 we were not doing a great deal of food track. Our business has since boomed and we have been able to add an extension to the kitchen and a conservatory with 25 seats to cope with the extra demand..

Denise & John Butler

Three Horses
★★★★★

Since introducing Black Rock Grill we've boosted covers by 80 each day and in the first year doubled our profits.

Jonathan Watson

Mermaid Tavern, Herm Island
Purchase Options:
-Purchase Outright
-Lease Finance (subject to status), monthly payments from 2 to 5 years
Lease Finance