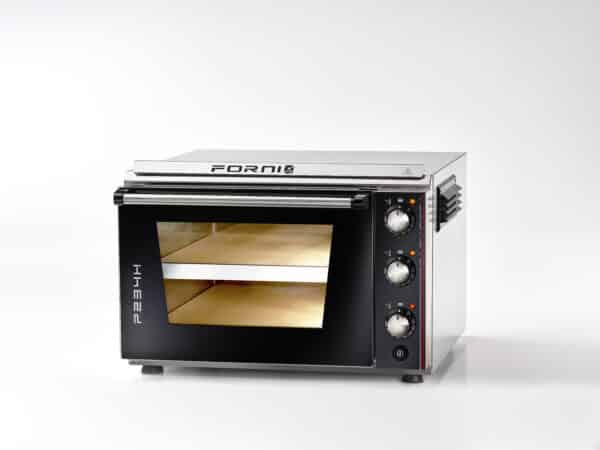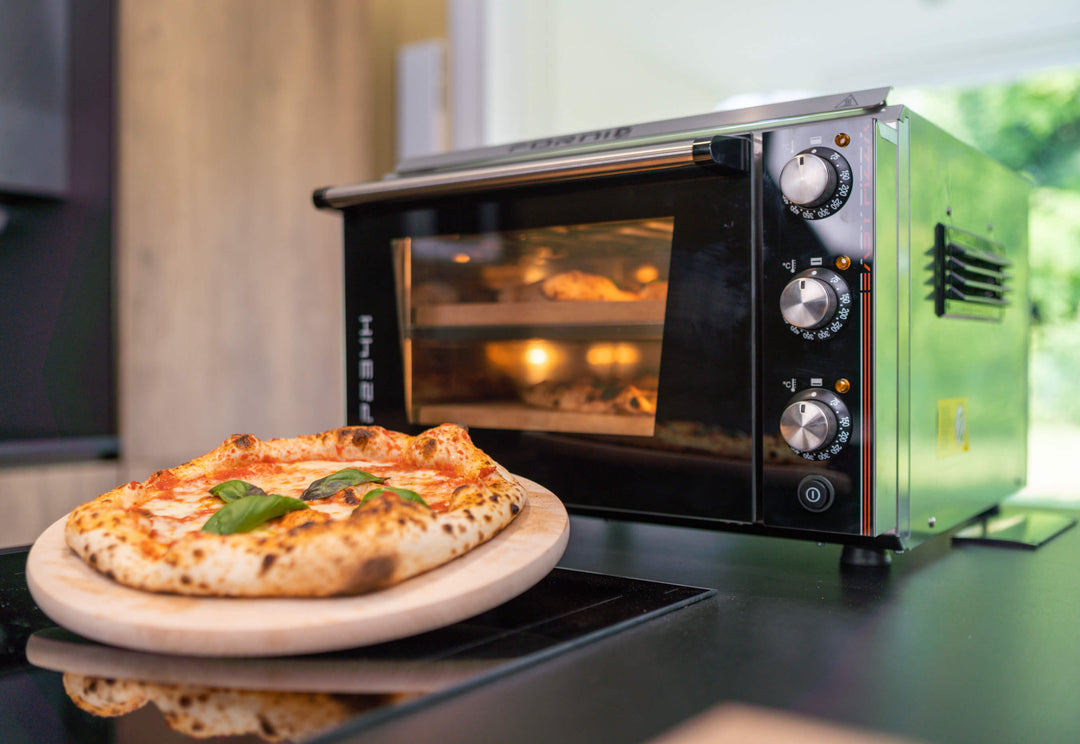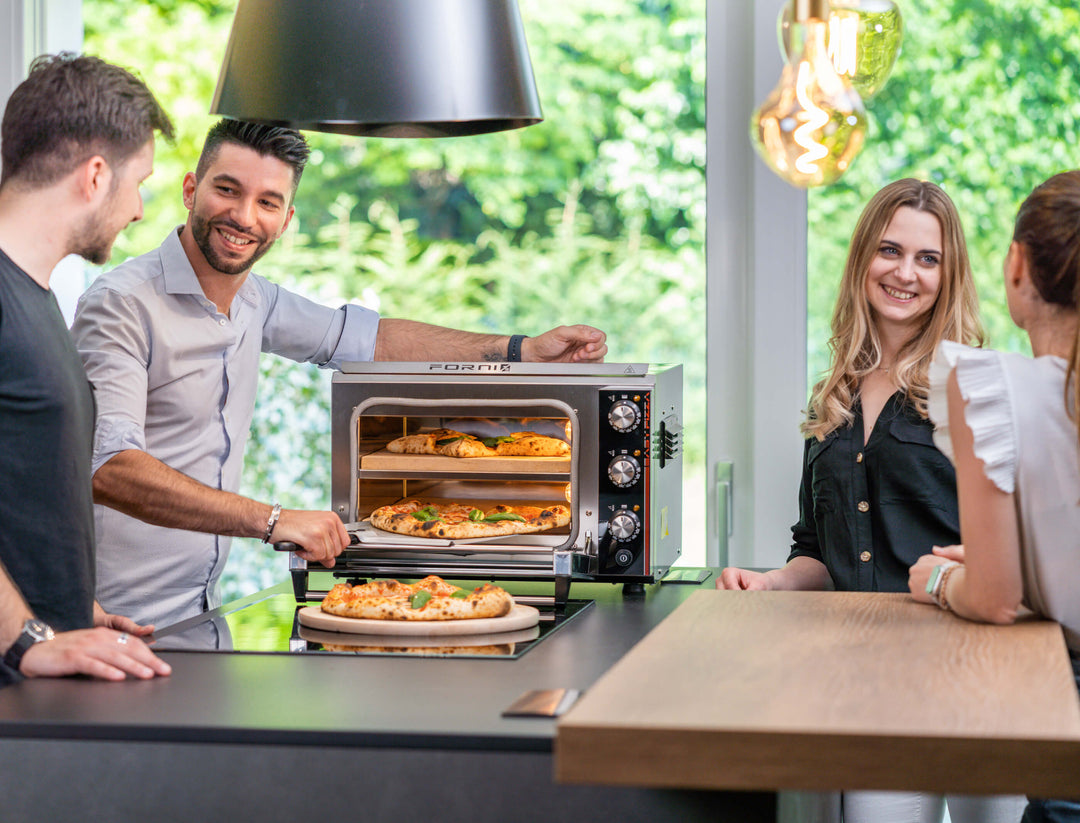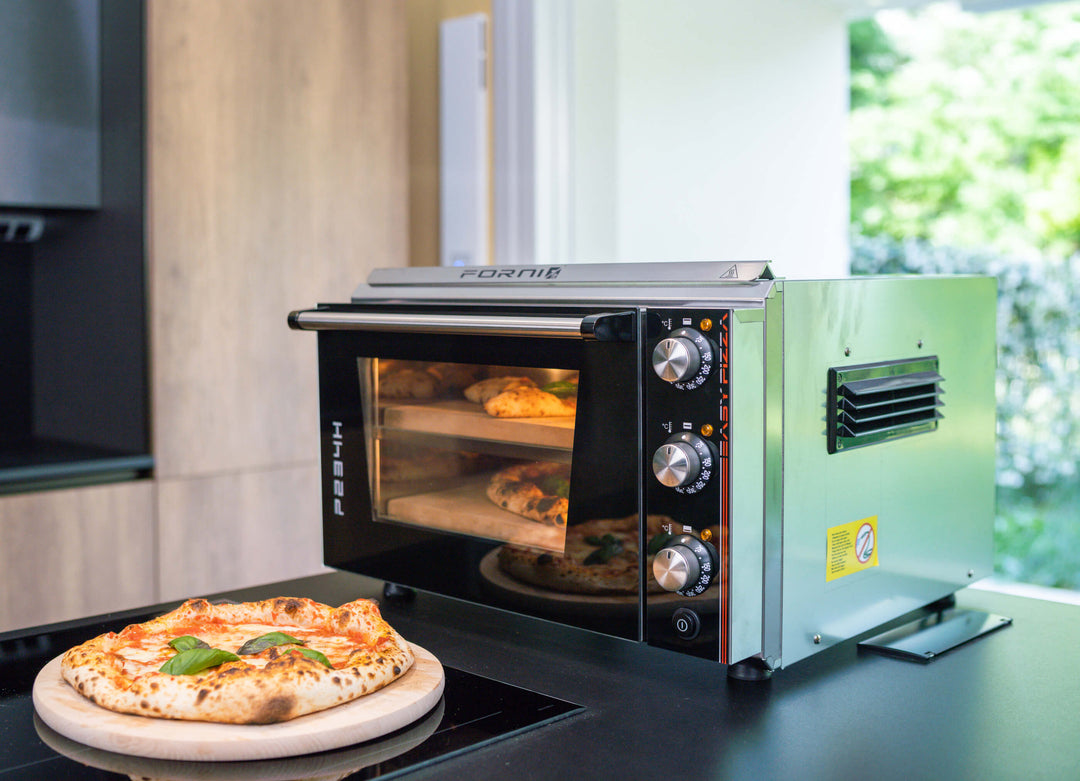 EFFEUNO P234H 509 Counter Top Electric Pizza Oven
LIMITED TIME OFFER- FREE BAMBOO PIZZA PEEL with every order, while stocks last* WORTH £28
Effeuno has been creating and handcrafting pizza ovens since 2007 in Italy with certified materials. They create top-quality professional pizza ovens for commercial and home use.

This Model P234H 509 oven is perfect for a small business or for use at home. The compact oven heats to 509c / 940f and cooks pizzas in 1-3 minutes. Because of its reduced dimensions, its energy consumption is low.
The double deck allows you to create and bake two 33cm/ 12.9" pizzas at a time.
The Effeuno P234H pizza oven is made of the highest quality stainless steel, it is used to make the baking chamber, housing and knobs. The outer and inner glass in the front door is made of tempered glass, while the inside is made of ceramic glass with low thermal conductivity. All the components used are made of the highest quality materials, capable of operating at very high temperatures. In addition, the outer casing maintains a low temperature during baking through forced ventilation and is equipped with a special seal for a soft door stop.
The beautiful Biscotto claystone is specially designed for this oven model. It is handmade in Italy. The developers' goal was to create the perfect baking base at the very high temperatures required for a Neapolitan pizza (509C), guaranteeing absolute non-toxicity and health safety, as well as very low weight and relatively low cost. 
We are the UK's main distributor for Effeuno. 100% Made in Italy. Comes with UK Plug.
Fresh and frozen pizzas can be cooked in the oven, but why stop there, bread, cakes, biscuits, and nachos to name a few bake beautifully in the oven as well!
Key Features
Model- P234H
External dimensions: 54 X 59 X 34.5cm 
Inner dimensions: 35 X 41 X 7.5 cm (two chambers)
Electric Power Supply: Volt 230/50-60 Hz 13A
Net Weight: 27 Kg / 59.52LB
Power: 2.7 kW
Temperature Max: 509° C / 842F
Thermostats: 3x509° C / 3x842F
Cooks 2 12.9" /33cm at a time 
Cooks pizzas in 1-3 minutes
12 Month Warranty
This oven will be shipped palletised. And will incur a small shipping fee.
 Item will be shipped on a pallet. Shipping is calculated at checkout. For overseas shipments please contact our customer service team for a shipping quotation- sales@blackrockgrill.com
Instruction for Biscotto Stone-Before first use
The stone has a top side and a bottom side. The top side has the smoothest surface, while the bottom side can be somewhat rough.
Burn-In takes place by placing the stone in the oven and baking at half power for 60 minutes. Then let the stone cool slowly down to room temperature before you give it a second Burn-In, but now at full power, for 60 minutes. After this, the Biscotto stone is burnt-in and ready for use. Note: Burn-In may create smoke inside the oven, this is quite normal, simply open the oven door to release the smoke. 

Cleaning and maintenance
Do not use soap and water. To clean simply brush the Hot Stone with a Brass Pizza Wire Brush. Avoid steel wire brush as it is too hard against the stone. Fine dust can be removed with a slightly damp cloth when the stone is cold.

Biscotto stone is not a perfectly carved stone
Due to the fragile nature of the stone, we do not offer any guarantee on the stones. This is standard industry practice. If your stove comes with a broken or cracked stone, you must contact us immediately.

Every Biscotto stone is individual and handmade and so you can expect to see creases, wrinkles, hay, sand, and many other imperfections in the claystone. This is the industry norm. The manufacturer will not exchange or replace stones that have minor damage it occurs naturally during manufacture. Because these stones are handmade, air-dried, and then oven-dried, it quite often results in imperfections and splits & creases along the edges. Such minor damage does not change the performance of the stone or the oven and is therefore not considered a defect.